ENERGY-ONIX HF-10K2
MODEL HF-10K2, 10KW DUAL FREQUENCY SHORTWAVE TRANSMITTER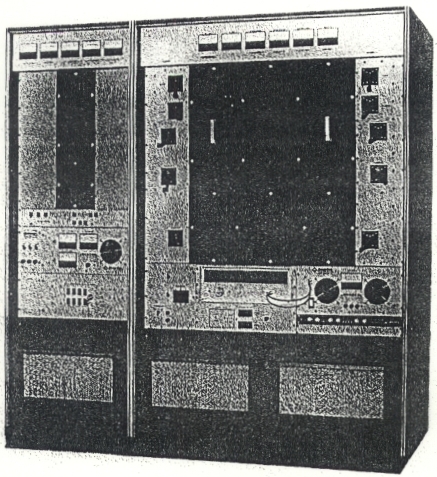 FEATURES

* Two Independent RF Circuits

* Built-in Frequency Synthesizer

* Channel Change in Seconds

* Modern Control System With Override

* Can Deliver 10KW Into 3.1:1 VSWR

* 125% Positive Modulation

* Designed for Local or Remote Control

* Conservative Tetrode as Modulators & PA

APPLICATION

The Energy-Onix HF-10K2 is designed to meet the need of broadcasters worldwide who require an excellent quality, very reliable, short-wave transmitter. This design allows Shortwave broadcasters the convenience of having both day and night frequencies available in one 10KW transmitter with channel switch over in seconds.

TWO FREQUENCIES

The Model HF10K-2 is a two-channel, 10 kW AM broadcast transmitter, with each channel capable of being pretuned at any frequency from 2.3 to 10 MHz. Each channel consists of independent RF components, with individually calibratedd tuning controls. Vacuum relays are used to switch both the input and output circuits from one set of components to the other.
The RF source is a synthesized exciter that can be preset on any two frequencies in the range of 2 to 10 MHz. The output of the synthesized exciter is amplified by a broadband solid state amplifier using MOSFETs to produce 300 W of RF drive. A coaxial relay drives either the RF components for channel 1 or the PA components for channel 2.
The final power amplifier stage of the HF10K-2 uses a 4CX15000A tube. This tetrode is capable of producing 17 kW, making the 10 kW output requirement very easily attained. The tube operates at a modest 6,000 V, and both the plate and screens are modulated to assure 125 percent modulation. The output circuit of the amplifier contains "Pi" and "L" networks, as well as independent second and third harmonic traps. Variable vacuum capacitors are used for both tuning and loading.
All controls are front panel calibrated and incorporate counter dials. The RF components are sufficiently large, and the capacitors have sufficient range, that the transmitter can feed a mismatch as high as 3:1 over the nominal 50 ohm output.

CONTROLLER

The transmitter contains a directional coupler for metering both incident and reflected powers, and it also contains the Energy-Onix "user-friendly controller", which permits both automatic and manual operation, low power/high power operation, automatic recycling, local and remote control operation and protection against current overloads and VSWR, excesses.
The audio circuitry of the transmitter consists of a solid state audio driver and two 4CX5000A tetrodes operating in push-pull. The output power capability of these modulators is more than is required, and extremely long tube life is anticipated.
The entire transmitter is self-contained in two cabinets. The transmitter is 1.93 meters (76 inches) wide, 0.91 meters (36 inches) deep and 2.09 meters (82.5 inches) high. Air enters the cabinets through filters in the front and rear of cabinet, while the exhaust is available through the top of the cabinets.
The transmitter can he operated from any popular three phase line source. As an option, the transmitter is available in custom single phase configuration.


TUBE COMPLEMENT
RF stages
AF stages and modulator
Number
Type
Number
Type
2
4CX15,000A
2
4CX5000A